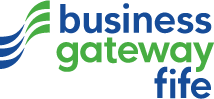 This is your last chance to position your company as one of the leading experts in your field at this year's Fife Business Week which will take place between 10th – 14th November.
Now in its fifth year, Fife Business Week has firmly established itself as the biggest event in the local business calendar.
We have already received a great response from companies who are hosting an event in their specialist area, as we aim to inspire the Fife business community.
Fife Business Week will supported by a major marketing initiative which will combine direct mail of 5000 brochures, a dedicated website, social media campaigns and a high profile PR campaign. It will also be promoted heavily by Business Gateway Fife through its eNewsletter and on its website.
This is a unique opportunity to demonstrate your expertise and generate new business from ambitious Fife companies – all for little or no cost.
So what are you waiting for? Give Karen Cassells a call on 01592 858333 to discuss your ideas or simply download the proposal form and return it to me before Friday 15th August.