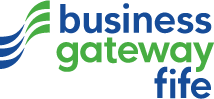 The 19th March was a landmark day for Business Gateway Fife client, St Andrews Management Centre Ltd (STAMC) with the official launch of the company at the St Andrews Links Trust Morris Building.  Invited guests from local businesses and academic organisations joined with the STAMC team to celebrate two milestone achievements: the company successfully achieving Approved Centre status with both the Institute of Leadership and Management (ILM) and the Scottish Qualifications Authority.  Approved centre status with the ILM allows the centre to deliver accredited management qualifications.  These management qualifications will be complimented by the SQA Learning and Development Assessor/Verifier Awards that the centre now also offers.
 
Guests at the launch included representatives from a range of sectors including golf & tourism, manufacturing, hospitality and legal. To make for a truly memorable, and busy, day STAMC were also that evening category finalists in the Most Enterprising Start-Up Award at the 2015 Fife Business Awards held at the Rothes Halls.
 
St Andrews Management Centre Ltd is based in Fife and operates in the Learning and Development sector. Founded by Jeff Lockhart and Rick Bond in 2013, the company fuses academic and commercial skills honed over thirty years working with a range of industries at home and abroad. The centre has experience of working in Europe, Russia and the Middle East and are due to run their first program in China later this year.
 
The Centre focuses on education and training within management and delivers bespoke short courses as well as the longer accredited courses now on offer. Their new SQA Learning and Development suite of awards are aimed at companies who wish to assess their own candidates in a workplace environment. The ILM qualifications are suitable for individuals within an organisation at various levels of management who wish to fulfil their role to the best of their abilities.
Speaking at the launch Director Rick Bond spoke of the drive to set up St Andrews Management Centre, "Jeff and I saw the opportunity to set up a centre to focus on education and training within Fife and beyond, and it has been a prospect we have embraced. With our track record working in academic and commercial, domestic and international contexts, we believe we have the skills to meet the requirements of businesses locally, nationally and internationally."
 
"Our belief has always been that training must give clarity, competence and confidence", adds Director Jeff Lockhart, "You give someone clarity about their role and that gives them the competence to go out and do their job to the best of their abilities. You give them that competence and you're rewarded with an employee who confidently deals with the challenges the job throws at them.  It is this belief that drives each and every one of our training sessions."
 
To find out more about the products and services offered by St Andrews Management Centre Ltd (STAMC) visit www.stamc.co.uk or call us on 01592 645795.
Tagged with:
Training