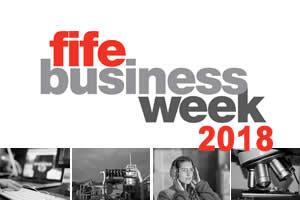 Following the success of last year's Fife Business Week, Fife Council Economic Development is delighted to announce our 9th Fife Business Week, which will run from 5-9th November 2018 at various venues across Fife.  We are delighted to invite partners and stakeholders to host or engage in an event during Fife Business Week 2018.
Branded under the Fife Economy Partnership, the week will comprise a programme of inspiring business seminars, workshops, masterclasses and networking opportunities that will bring together private and public sector organisations in a bid to promote business opportunities. The week will be co-ordinated with a number of key partners and professional intermediaries across Fife to deliver sector specific business events and;  by making use of any related events that may already be planned but holding them over this nominated week. 
Fife Business Week will benefit from a significant amount of promotion including radio, local press, social media channels and an interactive website accessible for mobile devices.  Furthermore, a hard copy brochure will be distributed to Fife businesses and stakeholders and located in various footfalls across our communities.   
This is a great opportunity to demonstrate the diversity and range of business support services in Fife, that reflect the ethos of our Fife Business Week. 
If you would like a business event to be considered for Fife Business Week please email
craig.rutherford@bgfife.co.uk
for more information.  Submissions close on Friday 20th July 2018.  Unfortunately, we will require to adhere to this timeline, so even if you do not have a fully spec'd event, please submit a note of interest.