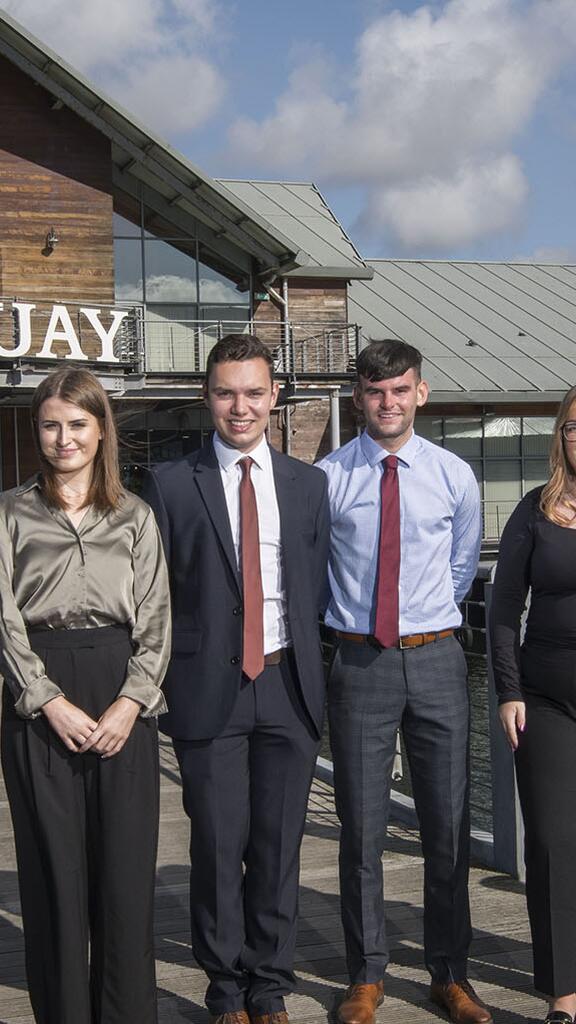 EQ Accountants supports the future growth of the firm with new graduate intake
Tuesday 29 August 2023
Leading taxation and business advisory specialists, EQ Accountants LLP, welcome six new graduate trainees as they take their first steps to becoming Chartered Accountants. 
Each year, the firm offer training contracts to university graduates looking to gain the prestigious ICAS qualification. This year's intake, who recently gathered at EQ's Dundee office for training, will be spread across all three of the firm's offices: Dundee, Forfar and Glenrothes. 
While providing opportunities in the local area, the investment in trainees will also help support the future growth of the firm, which has 16 Partners and employs 120 members of staff. 
The new trainees include four Accountancy graduates from the University of Dundee, Fraser Dingwall, Alisha Owen, Amy Sherriff, and Helena Drylie, alongside Accountancy and Finance graduate, Lewis Stracey from the University of Aberdeen. They are also joined by University of Dundee Mathematics graduate, Stella Winterton.
EQ offers an intensive, three-year training programme which is unrivalled locally when it comes to the experience, training and funding which graduates benefit from. As well as being exposed to a broad range of assignments, with client responsibility from an early stage, graduates receive a diverse training experience, developing skills in accountancy, taxation, and audit. The programme also offers the opportunity to enhance personal skills and gain valuable insight into business advisory services. The firm's graduate recruitment drive for 2024 will begin next month.
Graeme Davidson, EQ Staff Partner commented, "With growing demand for the services we provide, it's crucial that we have the right people in place. We are therefore delighted to welcome this group of talented people to our growing workforce.
When it comes to graduate recruitment, we look beyond the degree. Instead, we focus on attracting and investing in the right calibre of graduate, ensuring that they can thrive within the firm as both individuals and professionals, enjoying a truly rounded experience. We look forward to working with our new colleagues, shaping them into professional Chartered Accountants who we are proud of, and helping them achieve, and indeed exceed, their personal career goals."
EQ have increased their staff headcount by 27% in the last twelve months and are currently recruiting across the firm with demand for their services at an all-time high. For more information, visit www.eqaccountants.co.uk.