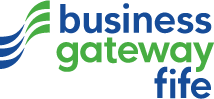 Doorstep Bakery, a unique community owned business operated mostly by volunteers, has become the first company to take advantage of the stall sponsored by Business Gateway Fife at the Fife Farmers Market.
The company is based in the kitchen of the village hall in Collessie producing freshly made bread, which it delivers to its customers' doors every week on a subscription basis.
 The organisation is now looking to develop its existing client base with their presence at markets in Kirkcaldy, Dunfermline, Cupar, St Andrews and Glenrothes.
The opportunity was created following Business Gateway Fife's partnership deal with the Fife Farmers Markets to provide start-up businesses with the chance to promote their products at all five of the highly popular markets.
Doorstep Bakery's spokesperson, Neil Stoddart, said that many village businesses in the area have been lost over the last three decades and Doorstep Bakery is hoping to revitalise the town:
"This is our chance to turn that situation around, and as a small artisan producer using organic ingredients sourced as locally as possible, we can ensure our prices are competitive with similar quality producers."
Doorstep Bakery is one of a number of artisan food and drink producers based in Fife, however their unique set up makes the business all the more interesting as it bring a whole community together for a common good.
Councillor Lesley Laird, who was instrumental in putting the sponsorship deal together, explained, "The Fife Farmers markets draw thousands of people each month into the respective towns and I am delighted they were so receptive to the idea of working in partnership to give Fife businesses, such as Doorstep Bakery, a fantastic opportunity."
 The agreement is just one the innovative strategies being implemented by Business Gateway Fife to support owners of new businesses looking to get their ideas off the ground and generate sales.
Councillor Laird, who also sits on the board of Business Gateway Fife continued, "Business Gateway Fife has a great reputation for supporting start up and mature businesses with a variety of services such as advice, training and funding however we are looking at new ways in which we can make a real difference. We are also looking at ways in which we can get more businesses to approach Business Gateway Fife and our partnership with the Fife Farmers Market does exactly that."
To find out more about the range of services offered by Business Gateway Fife, including how you can get your business featured at the Fife Farmers Market, visit www.businessgatewayfife.com or call 01592 858333.