If you are looking to become self employed or start a business, then we can help.
We offer lots of support to help make 'being your own boss' a reality:
Advice on your business idea
Information to help you build a strong foundation
Business plan template
Seminars and workshops to give you the knowledge and skills you'll need
Funding advice and support
And the good news is, it won't cost you a penny!
Be Your Own Boss Roadshow
Why not come along to one of our FREE 'Be Your Own Boss Roadshow' events.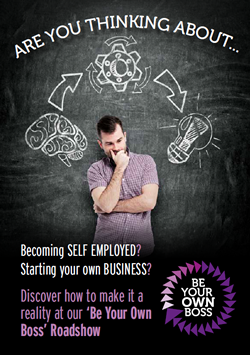 At this informal session, you'll find out more about what's involved in starting your own business, what you need to know, who can help and what services you can access.
In this two hour session, you'll find the answer to these questions and meet others who are in the same situation.
Check out our line up of Be Your Own Boss events here
 To book, please click on the links above, call 01592 858333 or email success@bgfife.com