If you are outgrowing your home office or simply looking for a more flexible workspace, then we may just have the perfect solution...
Eastfield Industrial Estate, Glenrothes
Unit O East on Baird Road in Eastfield Business Park, which is situated on the edge of Glenrothes (adjacent to the Bankhead roundabout) is currently for sale / to Let.
The industrial unit which is 1,638.44 sqm ( 17,636 sq ft) comes with a secure yard.
Click her for further details or contact Andrew Reilly (Andrew Reilly Associates Ltd) – 0131 229 9885
Enterprise Hub Fife, Glenrothes
Enterprise Hub Fife is designed to provide enterprising individuals and start-ups with growth aspirations access to a unique facility which encourages collaboration, networking and business growth. The Hub is home to:
Fully furnished, affordable and all-inclusive offices with high speed broadband and access to a full support network to help your business grow.
An excellent hot desking environment for entrepreneurs on the move or to collaborate with like-minded
Private meeting room facilities and high-quality events facilities which can accommodate up to 55 delegates.
And, with Hot Desking Facilities starting at only £3 per hour, meeting rooms from £10 an hour and office space starting at less than £100 a month, it really is affordable!
Enterprise Hub Fife, Kincardine
The Coalfields Training and Enterprise Hub in Kincardine offers support and flexible work space for start-up businesses and social enterprises and is designed to inspire enterprising individuals, encourage collaboration and networking. 
Based in the heart of the Longannet Communities, this flexible work space offers private meeting rooms, flexible hot desk and co-working facilities, professional and affordable offices and events space.
Find out more here or call 0800 254 5200
Fife Renewables Innovation Centre, Methil, Leven
The highly acclaimed Fife Renewables Innovation Centre offers conference and event venue hire, hot-desking and virtual offices to allow more businesses to operate within flexible schedules and increase efficiency.
To discover how your business could benefit from the associated rental package including telephone answering, mail handling, access to state-of-the-art conference and meeting room facilities, please contact Ann-Marie Balcombe, Centre Co-ordinator on tel: 01333 439356 email: annmarie@ccdtraining.co.uk   or visit www.fiferenewablesinnovationcentre.co.uk
Fife Council's Business Property Portfolio
Fife has a wide range of commercial premises and business property with Fife Council's portfolio consisting of more than 300 industrial and office premises (including business centres) which are available to lease at locations throughout Fife. They offer a wide choice of properties with everything from small workshops to modern business parks.
Fife Council's Business Property Information Service provides a free service to new and growing businesses to make the search for premises as easy as possible.
Or if you are thinking of building your own commercial premises in Fife, visit the Fife Council employment land page for more details about the land that is currently available.
With the extensive knowledge that the Fife Council business property team have of the Fife property market, you can be confident that the information you will get will meet your needs.
For more information visit call 0345 600 1359 or try our land & property search on the Invest in Fife website
Buko Business Centre, Glenrothes
The Buko Business Centre, since its initial conception in 2007, has provided an ideal opportunity for local businesses to expand/contract depending on their space requirements.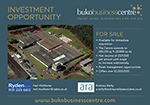 Centrally situated within Fife and within the well-established Southfield Industrial Estate, Glenrothes, the centre has excellent access to the Bankhead roundabout and the principal dual carriageway system.
Buko Business Centre provides 250,000 sq ft of manufacturing and storage facilities together with 12,500 sq. ft. of offices and whilst providing a range of business units, it can also accommodate a single occupier of up to 132,000 sq. ft.
The flexible approach adopted by the Centre Management and the range of space available, ensures that the vast majority of ongoing requirements can be satisfied.
For further details, please contact Lambert Smith Hampton.
Law's Close, Merchant's House, Kirkcaldy
Law's Close is modern work space in a stunning historic 16th Century Merchant's House on Kirkcaldy's High Street with beautiful sea views and a landscaped garden to the rear. Located in the heart of Kirkcaldy, a short
walk from the bus and train station. Law's Close provides tranquil workspaces with stunning period features to impress both clients and colleagues. The property includes work suites ranging from small individual to large open plan units. All offices have access to a communal kitchen and benefit from free use of boardroom facilities. 

Law's Close is easily accessible using public transport into the town centre of Kirkcaldy, situated close to both the train and bus stations. The building comprises of a variety of small individual workspaces and a larger open plan office. There is shared kitchen facilities on each floor. The first floor has four unique suites with a number of significant features including a 16th century painted ceiling, a striking restored decorative scheme and an impressive 17th century decorative plaster ceiling. The second floor has two further office suites. One is semi open plan and overlooks the seafront. The second suite overlooks the courtyard and garden.
Workspaces start from £150 per month with Wi-Fi, electricity and heating included in the rent.  For further information or to arrange a viewing contact our Property Manager: Elizabeth Mackay Tel: 01389 750005 Email: property@shbt.org.uk
Itek House, Glenrothes
Itek House is a contemporary fully-serviced business centre located in Eastfield Industrial Estate located, Glenrothes. This estate is seen as the administrative centre of Fife and is conveniently situated on Woodside Way, in close proximity to the B921/A92 Bankhead roundabout.
With free onsite parking facilities, the business centre offers a range of services that cater to small and medium sized businesses, start-ups and freelances including:
• office spaces
• virtual office service
• co-working spaces
Tenants gain access to shared communal areas such as kitchens and bathrooms, with the option of utilising our executive meeting room and boardroom all fitted with the latest technology. Alternatively, you can hire out the boardroom and meeting room for events, workshops or meetings. The cutting-edge technologies facilities include high-speed internet bandwidth, HD screens, integrated PCs, conferencing systems with cameras, mics and audios, HD stereo speakers and an interactive touch SMART board.
For further information please visit the Itek House website: www.itekhouse.co.uk or contact Lesley Blair directly to arrange a viewing at Lesley.blair@itek.co.uk or 01592 321213.
Thistle Industrial Estate, Cowdenbeath
A secure site with units and yards ranging from 275 sq ft – 59,191 sq ft. (25.5 sq m – 2,709 sq m) From only £1.50 per sq ft. Flexible lease terms. Immediate access to A92.  For more details contact Billie Bristow on 01937 849259
The Ore Valley Business Centre
The Ore Valley Business Centre is a state of the art business centre in Lochgelly, aimed at providing start-up and established businesses in Fife with the ideal home from which to grow. 
Located in the heart of Fife, the centre offers a central location with excellent transport links across Scotland and beyond. 
The business centre currently has a number of offices available, several of which are fully furnished. 
Our letting process is so simple that new tenant organisations can move in and be up and running in hours. Our lease terms offer flexibility and everything is included in the rental payment. 
All tenant organisations have access to a variety of shared facilities including: 
• High-speed fibre optic broadband and WiFi 
• IP based telephone system including voicemail 
• Shared private car parking 
• Secure 24-hour access 
• Board room with projector and screen 
• Private meeting rooms 
• Shared kitchen facilities 
• Wet floor changing and shower room 

If you would like any further information or you would like to view our office spaces, please give us a call on 01592 786 700 or email Nick Clark on
nclark@orevalleyha.org.uk
.
GIA Business Properties, Glenrothes
For over 25 years,  GIA Business Properties Ltd have been providing a flexible and affordable property service for the business community in Fife.                
GIA Business Properties Ltd  are able to offer office space, storage, warehousing and light industrial units throughout Glenrothes.
The principal objective of the company is to stimulate economic growth, by developing, managing, providing property and services specifically for new and existing business ventures with priority given to meeting the accommodation requirements for small to medium sized start up or existing businesses.
Check out a list of available properites.
For more information please call 01506 401 940 or visit
www.dmhall.co.uk/property-search/