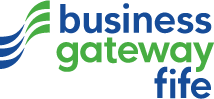 SCOTLAND'S first Modern Apprenticeship in Enterprise has been launched this week in Fife.   The qualification is being piloted by Cupar business, the Careers Studio.
Founder of the Careers Studio and Careers Adviser, Ronnie Davidson, who hosted the launch commented:  "Enterprise apprenticeships are a great way for employers to bring young people into a business because the apprentices quickly develop an emotional investment in what they are doing. An enterprise apprenticeship is not just about going to work, it's about learning how to develop new opportunities and influence the business you are working in."
He added:  "As Scotland's first and only SFEDI (Small Firms Enterprise Development Initiative) Awards Centre we are really excited to be developing the scheme and piloting with three young people in our own business. This would not have been possible without the support of our partners at Fife Council through the Culture of Enterprise Initiative."
 Councillor Kay Carrington, Fife Council's executive member for Business, Enterprise, Economy & Planning welcomed the new apprenticeship and said:  "This is an excellent day for the Career Studio and a great milestone for Fife as a pilot Modern Apprenticeship is launched for Enterprise in Cupar. It's wonderful to see such enthusiasm and commitment to take forward this new and significant qualification."
Fife Council's Enterprise, Planning and Protective Services, on behalf of the Fife Economy Partnership launched its Culture of Enterprise Framework back in May 2009.  The framework provides a blueprint for creating a vibrant enterprise culture in Fife and it's recognised that to develop this culture requires the early engagement of young people.
 Fife Council is particularly keen to engage with secondary schools and to find innovative ways of supporting and linking education and business to embed an enterprising culture across the wider Fife population.
Creating a vibrant enterprise culture in Fife will help address underlying enterprise weaknesses in Fife's business base and encourage sustainable economic growth.
The partnership is actively embedding actions that will tie in with the overarching Culture of Enterprise Action Plan.  This plan strives to improve the achievement and attainment for young people, pupils, students and returning adults as well as improving enterprise and employability skills.